Pumpkin Chocolate Chip Bread
Jillster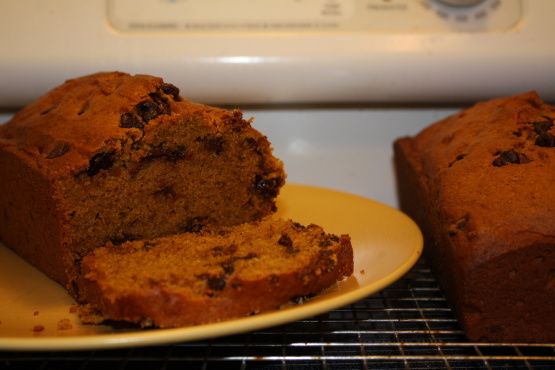 Easy, delicious, pumpkin bread. This is the best one I've tried. The bread is moist and dense and filled with chocolate. Everyone who tries it raves. Can be doubled to make four 8 1/2" x 4 1/2" loaves, or three 9" x 3" loaves, or ten 5" x 3" loaves
Excellent recipe! Easy to make and delicious...it was a hit with everyone who tried it. I added half a teaspoon of vanilla extract, as well as a pinch each of ginger, mace, allspice and white pepper (my typical pumpkin pie spices in addition to the ones in the recipe). Thanks for sharing!
Preheat oven to 350.
Spray two 8 1/2" x 4 1/2" loaf pans.
Mix dry ingredients together (flour, soda, salt, nutmeg, cloves and cinnamon.).
Stir chocolate chips into dry mixture.
In separate bowl, stir eggs, oil, sugar and pumpkin together.
Add pumpkin mixture to dry mixture and stir until well combined.
Scrape batter into loaf pans and smooth top.
Bake for 45-60 minutes, or until toothpick comes out clean.