Prep 10 mins
Cook 40 mins

Pumpkin lends color and nutrients to this zesty and flavorful dish. This Chili Mexicana recipe can be found on VeryBestBaking.com's website and will also be included in the Zaar World Tour 2005 swap, Mexico.
Directions
Heat vegetable oil in a large saucepan over medium-high heat. Stirring frequently, add onion, bell pepper, and garlic cooking for approximatley 7 minutes or until tender. Add turkey and cook until browned. Drain.
To turkey mixture add tomatoes with juice, pumpkin, tomato sauce, beans, chiles, corn, chili powder, cumin, and pepper. Bring this to a boil then reduce heat to low. Cover saucepan and cook for 30 minutes, stirring occasionally.
Reviews
Most Helpful
i have one suggestion that i think made this chili everyones favorite... i decided to be festive and make this for our halloween dinner party. everyone was skeptical before i made it but after tasting could not figure out how such a unique mix could be so good! every single guest went back for seconds:) i followed the recipe except i used ground beef instead of turkey because i think it adds more flavor. i also added browned beef & cooked rest of ingredients in crockpot instead of using a skillet. kept on low for an hour so guest could eat whenever they were hungry. my one suggestion that was a big hit is to serve warm chili over a large bake potato and top with sour cream and chives. this will be are annualy halloween chili for years to come. thanks for posting!!!
I wasn't sure what to expect, but I was quite delighted with the end result. I made this almost exactly as posted, except I used a packet of hot chili seasoning mix in place of the spices, and also added a tad bit of salt to taste. The pumpkin really added a great texture to the chili and a subtle creaminess that elevated this from plain old chili to scrumptious chili. I will definitely be making this again!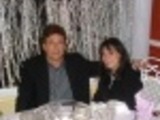 This one wasn't for us. It was too tomatoey for us and I only used 1 8oz can of tomatoe sauce. As soon as I put it in, I knew I shouldn't have put any. It was edible but I wouldn't make it again. We covered up the taste by adding cheese, sour cream, and sir racha on top. And eating it with tostadas. I took it to my neighbor and she liked it, but she loves tomatoes.
Thanksgiving Tips & Ideas >