PaulaG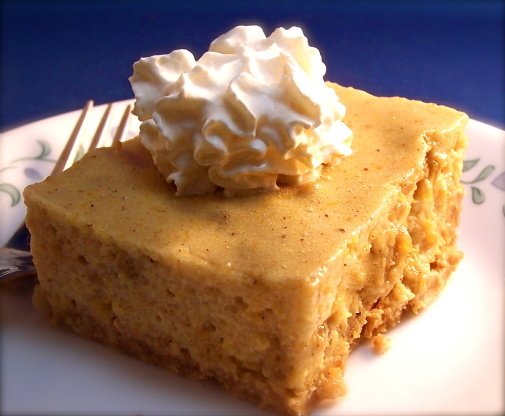 My DH found this on the net somewhere...I made it last year for Thanksgiving. It instantly became our new family pumpkin pie. Wonderful recipe!!

This was good, just not a favorite among the pumpkin lovers in my family. We felt that the pumpkin taste was barely there--- it could have used more spices and a richer flavor for our tastes. I did follow other's suggestions and use a graham cracker crust, which went well with the lightness of this pie.
Put the gelatin to soak in 1/4 cup cold water.
Beat the egg yolks in a double boiler, and add brown sugar, pumpkin, milk, and salt and spices to it.
Cook and stir this over simmering water till it thickens.
Add the soaked gelatin until it dissolves.
Remove from the stove and chill till filling starts to set.
(I put the pot in ice water).
Whip the 3 egg whites till stiff but not dry.
Slowly add the 1/2 cup white sugar, then fold into pumpkin mixture.
Fill pie shell and chill several hours.
Serve with Cool Whip.
Preparation time is approximate.