Pumpkin Carrot Swirl Bars With Cream Cheese Topping
Prep 20 mins
Cook 30 mins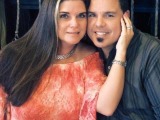 These bars are light and moist! Add some raisins to the batter, if you like.
Directions
Preheat oven to 350°F
Grease 15 x 10-inch jelly-roll pan.
Combine flour, pumpkin pie spice, baking powder and baking soda in small bowl.
Beat granulated sugar, butter and brown sugar in large mixer bowl until crumbly.
Add eggs, egg whites, pumpkin and carrot; beat until well blended.
Add flour mixture; mix well.
Spread into prepared pan.
Cream Cheese Topping:.
Prepare cream cheese topping in separate bowl as follows --.
Combine 4 ounces softened cream cheese, 1/4 cup granulated sugar and 1 tablespoon milk in small mixer bowl until thoroughly blended.
Drop teaspoonfuls of cream cheese topping over batter; swirl mixture with spoon.
BAKE for 25 to 30 minutes or until wooden pick inserted in center comes out clean. Cool completely in pan on wire rack.
Most Helpful
really delicious! Not too sweet and very moist. Made it exactly as described. thanks!

I made these with 3 eggs, baked in 9 X 13 pan, and used double the amount of the topping. They are fantastic. New family favorite. Thanks