Pumpkin Cake Roll With Cream Cheese Filling
Food.com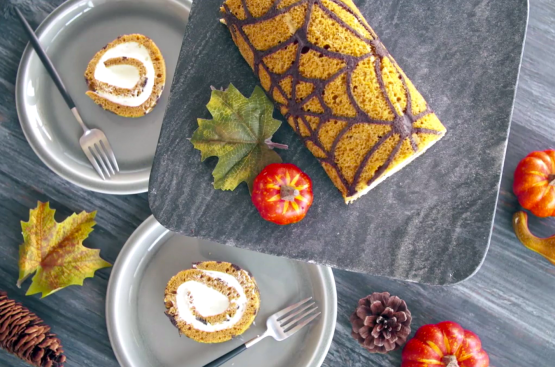 I found this recipe on the internet. This stuff is great. It makes a perfect holiday treat (Halloween, THanksgiving, Christmas.) If needed you can freeze the bread ahead of time. By the time you get to your party, it'll be ready to serve.

This recipe is great! I use pecans in mine just because I like them better, but I guess any nut (or none for that matter), it would still be good! :-) I baked my own pie pumpkin because we had one from Halloween. The taste was an amazing difference! Thanks!
PREHEAT oven to 375°F.
Grease 15 x 10-inch jelly-roll pan; line with wax paper.
Grease and flour paper.
Sprinkle towel with powdered sugar.
COMBINE flour, baking powder, baking soda, cinnamon, cloves and salt in small bowl.
Beat eggs and sugar in large mixer bowl until thick.
Beat in pumpkin.
Stir in flour mixture.
Spread evenly into prepared pan.
Sprinkle with nuts (if desired).
BAKE for 13 to 15 minutes or until top of cake springs back when touched.
Immediately loosen and turn cake onto prepared towel.
Carefully peel off paper.
Roll up cake and towel together, starting with narrow end.
Cool on wire rack.
BEAT cream cheese, powdered sugar, butter, vanilla, and sugar in small mixer bowl until smooth.
Carefully unroll cake; remove towel.
Spread cream cheese mixture over cake.
Reroll cake.
Wrap in plastic wrap and refrigerate at least one hour.
Sprinkle with powdered sugar before serving, if desired.