Pumpkin Cake Bars With Cream Cheese Frosting!
Dine Dish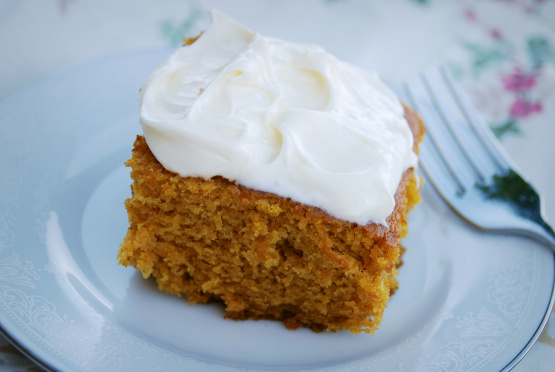 I love pumpkin bars all year long, and these ones take the cake! Moist, delicious, and perfect everytime. Everyone asks for the recipe after they've tried them!

Moist and sooo amazing! I added 1/2 tsp of nutmeg and 1/2 tsp of clove to spice it up a bit. It was definitely a hit with my family. Plus it was super easy to make. This is a keeper.
Preheat oven to 350°F.
Grease and flour one glass 9 x 13 inch pan.
In a mixing bowl, beat together the eggs, sugar, oil and pumpkin.
Sift together the flour, baking powder, salt, baking soda, salt and cinnamon; add to wet ingredients and mix thoroughly.
Spread into prepared pan.
Bake at 350° for 25 to 30 minutes.
Remove from oven and allow to cool.
For the frosting: beat together the cream cheese, butter and confectioner's sugar.
Evenly spread over bars after they have cooled.