Pumpkin Bundt Cake With Chocolate Glaze
Brenda.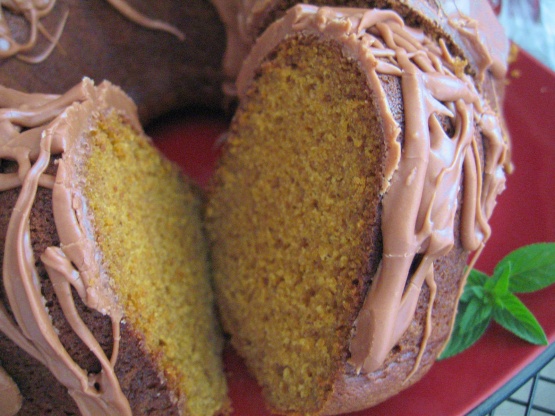 This is a recipe I used to make before being diagnosed diabetic. I don't think it can be re-vamped with Splenda and still be as good, so I'll make it for really special times, when I have been really good at watching the carbs! UPDATE: I changed the amounts of spices in this. I usually add more than called for and two reviewers thought it needed more. If it sounds TOO spicy for you, cut the amounts in half.

Top Review by Peera
Yum! Almost more like a spice cake than really pumpkin tasting, which suited us all just fine. My toddler went back for seconds, and he's not a big fan of cake.
Preheat oven to 350°F.
Coat a 10-12 cup bundt pan (or a 10" tube pan) with non-stick cooking spray.
Sift flour, baking powder, soda, salt and spices together; set aside.
In a large mixing bowl, beat eggs until foamy. Add sugars and beat until thick. Stir in pumpkin and oil, beating until smooth.
Blend dry ingredients into pumpkin mixture, mixing thoroughly.
Pour batter into pan and bake 1 hour, or until wooden pick inserted into center comes out clean.
Cool 10 minutes before removing from pan. Cool completely on wire rack. Drizzle the glaze over cooled cake.
For the glaze, melt butter and chocolate in a small saucepan over LOW heat; stir in salt and vanilla. Add powdered sugar with enough milk to make glaze a consistency to drizzle over cake.