Pumpkin Bread (Less Sugar and Less Oil - Still Amazing!)
npollard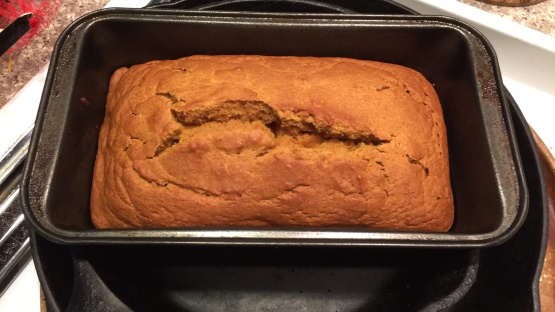 This is delish! Moist and full of flavor. What makes it even better? It has half the sugar and half the oil than most other recipes. NOTE: This bread becomes moister after a day or two. Enjoy!

This recipe is a GOOD one! Not only did it "go" as is (with the exception of an added tsp. of powdered orange zest instead of nutmeg or pumpkin pie spice and a little orange oil) it ALSO turned out a highly successful gluten free version! (For three mini loaves, I swapped the flour for 1/2 C. 1 T. EACH sorghum flour, white rice flour, and tapioca starch with 1/2 tsp. xanthan gum...and made one wheat intolerant young man very happy!) Always great to find a recipe I can convert! And all with less guilt, too! THANKS!
Preheat oven to 350°F.
Cream sugar, oil and applesauce together.
Add eggs. Mix well.
Add spices, vanilla and pumpkin.
Mix flour, baking soda and salt.
Alternately add flour mixture and water or apple juice. Mix well.
Pour into 3 greased small bread loaf pans or 1 greased large bread pan.
Bake at 350F degrees for 30 minutes for smaller loaves or 45-55 minutes for large loaf.