3 Reviews
Wow, great recipe! I used splenda for one of the loafs and it turned out awesome, and so moist. It's hard to believe how healthy it is. I shared with friends and they all raved about how great it was. Thanks so much...I'll definitely use this again.
Delicious and moist! I used Splenda in place of the sugar and love the fact that you use applesauce instead of oil. I only had a large can of pureed pumpkin, so I ended up making 3 loaves. I gave one loaf to my in-laws, 1 loaf to my son's family and took 1 loaf to work. Everyone loved this pumpkin bread. Made for May 2010 Aus/NZ Swap.

Fantastic! Delicious! Wonderful! We all loved it, thanks to you, Chef On The Coast! I do want to note, I halved the recipe to make one loaf and it baked for 70 minutes. The flavors of cinnamon, nutmeg, and pumpkin all combine perfectly. Made for Spring 08 PAC.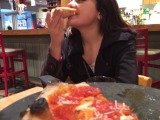 Pumpkin Bread