Suzie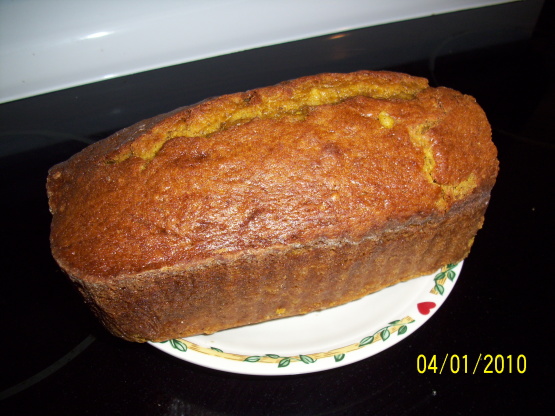 An easy and spicy bread. Great with a little butter on it.

Wonderful quick bread recipe. In particular, I really loved the spices in it (though I will probably double the cinnamon and nutmeg since I really, really like that combination in this bread recipe). But the bread was quite moist and flavorful, and everyone really enjoyed it. Thanks for sharing your recipe, Dessertcher.
Pre-Heat oven to 350.
Sift flour, baking powder, baking soda, salt, cinnamon, and nutmeg together onto a sheet of wax paper.
In a large bowl, cream the shortening, sugar and vanilla until fluffy. Add the eggs, ont a time, beating thouroughly after each addition.
Stir in pumpkin and then stir in dry ingredients in 4 additions, alternating with the water until just smooth. Do not overbeat.
Add walnuts now if you like.
Turn into a greased loaf pan and bake for 50 min.- 1 hour or until toothpick inserted in centre comes out clean.