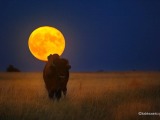 This is a recipe that my BIL loves, so I thought I would share it with you. Although I myself am not a lover of pumpkin bread, hopefully if you are you will find this to your liking. :)
Directions
Mix first 6 ingredients in a large bowl.
In a second bowl, combine eggs, water, salad oil and pumpkin.
Add the pumpkin mixture to the dry ingredients in the first bowl and mix just until well blended.
Fold in nuts, and raisins.
Mound batter into 2 greased and floured loaf pans.
Bake at 350 degrees for 1 hour (or until toothpick comes out clean when inserted into center of loaf).
Cool on a wire rack.
Most Helpful
This was great! I had left over pumpkin that i had to use, and i found this recipe to do it with. I did not have nutmeg, so i used about a tsp of pumpkin spice instead. And i halved the recipe as i only has enough pumpkin to make 1 loaf. But over all, i loved this, as well as my family. thank you for sharing.
Great bread Oz! I substituted regular chocolate chips and white chocolate chips for the raisins and nuts and ended up with a couple of very moist loves of pumpkin bread. Perfect with my coffee this morning! Thanks!!

Very moist and tasty. I might add a little more nutmeg, though, just because I really like nutmeg. I left out raisins because I really dislike them :) Thanks for a keeper, Oz! BTW, I used half sugar and half Splenda for the called for sugar.