Parsley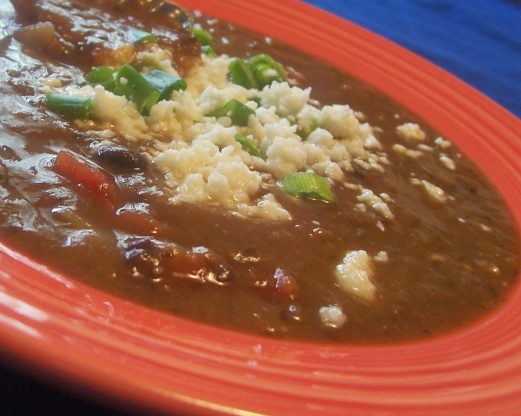 From the April 2006 issue of Cooking Light. They suggest using vegetable broth to make this a meatless meal. I like that it is made up of ingredients that I usually have on hand.

I wanted to try something new - and this was it! It is soooo good - not sure what I thought it would taste like - but my DH and I loved it! And soooo easy too! A definite keeper! Thanks!
Place tomatoes and beans in a food processor, process until about half of the beans are smooth. Set aside.
Heat oil in a Dutch oven coated with cooking spray over medium-high heat. Add onion to pan, sauté 5 minutes or until lightly browned. Add cumin and garlic; sauté 1 minute. Add bean mixture, broth, and next 3 ingredients (through pumpkin); bring to a boil.
Ladle about 1 cup of soup into each of 6 bowls; sprinkle each serving with about 2 tablespoons queso fresco and about 1 tablespoon green onions. Garnish with pumpkin seed kernels, if desired.