Pumpkin & Bean Cannelloni With Cream Sauce.
Mandy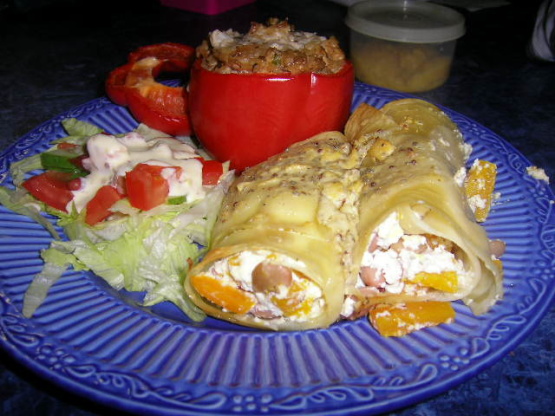 This recipe from Edgell is a nice change from the usual spinach & ricotta cannelloni with tomato sauce. The creamy sauce complements this perfectly. The recipe says to steam the cannelloni but when I made it I baked it as you would a usual cannelloni with no issues. If baking it you might like to increase the amount of sauce by a bit to ensure adequate coverage of cannelloni, I will be next time I make this.

I just bought a steamer and really wanted to use it, and this recipe put it to good use. I used butternut squash used Recipe #96087 for the noodles. For beans I used cannili (major sp) beans. SUper tasty mixture. I also used skim milk and it came together pretty good with that change.
Mix pumpkin, cheese, beans, garlic, half the sage and egg white together in a bowl.
Spoon half the filling lengthways along each lasagna sheet & roll up, Cut in half and place seam side down in a steamer.
Cook covered for 10 minutes.
Combine cream & egg yolk in a saucepan, add wine, mustard & remaining sage. Stir over a gentle heat until slightly thickened.
Serve cannelloni with sauce.