Pumpkin and Spinach Curry
Debbwl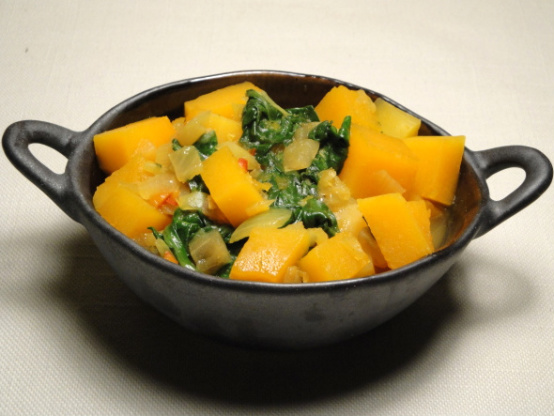 For some reason I always wait till I'm specially remembering to increase my veggie intake to do this, but it is one of my all time favourite dishes and isn't nearly as complicated as it sounds.

Top Review by Debbwl
Am always on the look out for healthy dishes can make on the weekend for DH and myself to pack in our lunches and this sure fit's the bill. Made this morning and of course could not pack it up with a taste testing it hee hee. We not only enjoyed how healthy it is but also the spice combo that was flavorful with out being over powering. Made using a 2 1/2 pound butternut squash and a 10 ounce bag of fresh spinach. Have never seen and did not know what masel stock cube was so used two chicken stock envelopes. Ok now I am looking forward to tomorrows lunch. Thanks for the post.
Coat the pan with cooking spray, heat and add the onion. Cook, stirring until softened. Stir in the garlic, ginger, chili, coriander, cumin and turmeric. Stir for 30 seconds.
Add the pumpkin, water and stock cube. Simmer, covered about 15 minutes or until pumpkin is tender. Stir in the spinach and fresh coriander. Cook, stirring, until spinach is just wilted.