Pumpkin and Lentil Fritters
ladypit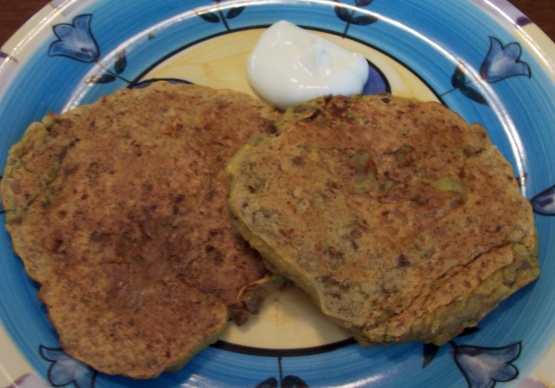 Pumpkin and Lentil Fritters with garlic, leeks and tarragon. Suitable for a light and healthy vegetarian brunch or lunch. Increase or decrease the number of garlic cloves to suit your preferences. Adapted from a recipe in the April 2005 issue of 'Table: Easy Family Food and Healthy Living'.

Top Review by Mrs B
I had intended to make these as posted, but at the 11th hour had to sub butter beans instead of lentils. These fritters tasted great but did not hold together well. I've discussed this with bluemoon and we agree that some fritters hold together and some don't. But having seen Ladypit's photograph, I'd say that in my case it was probably that the beans weren't right for this kind of recipe; not without further tinkering anyway. I'm giving this 4 stars though because I think the recipe as written is likely to be worthy of at least rating. I'll definately make these again. By the way I couldn't find fresh tarragon either and subbed with dried dill, which worked fine.
Cook the pumpkin in a large pot of boiling water for 10-15 minutes, until tender, drain well, return to the pot and mash the pumpkin thoroughly.
Remove the outer leaves from the leek, wash all the leaves thoroughly, pat with a paper towel to remove excess water and finely chop.
Peel garlic cloves, crush and finely chop.
Thoroughly drain the lentils.
Finely chop the tarragon.
Heat one tablespoon of olive oil over a medium heat, in a sauté pan, and sauté the finely chopped garlic and leek until tender.
Transfer the garlic and leek to kitchen paper to drain excess oil.
Mix the garlic and leek with the mashed pumpkin, lentils, flour, egg and tarragon until well combined.
Heat one tablespoon of olive oil over a medium heat in the sauté pan.
Add 1/4 cupfuls of the pumpkin/lentil batter to the pan and flatten with a spatula.
Cook for 2-3 minutes on each side, until cooked through and golden. You should get 8 fritters from the batter.
Drain the fritters on kitchen paper and, if not needed immediately, keep them warm in a 120ºC oven.
Serve the fritters with tzatziki or your favourite vegetable chutney and a salad.