Pumpkin and Leek Soup - No Dairy
Jubes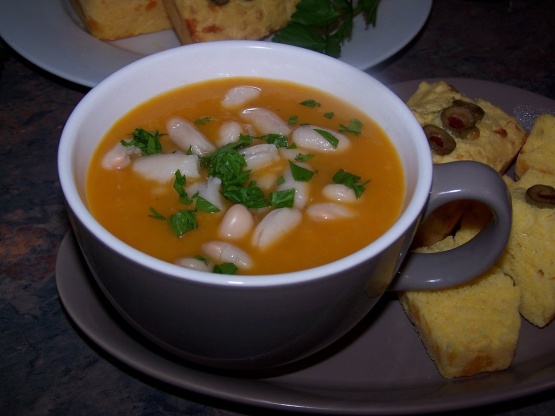 A simple vegetable soup made without dairy. Leeks are noted for being rich in iron and the garlic/onion are noted for their immune boosting qualities. For some extra protein stir in some beans such as cannellini beans after the soup has been blended and heat through. Serve with some crusty bread, cornbread or a bread roll. An excellent soup for the colder months or for a quick re-heat lunch to take with you to work. I like to use butternut pumpkin but you can use any variety of pumpkin. I use Massell brand stock that is gluten free and animal product free (including their chicken stock). Shown in my posted photo with gluten free "Olive Cornbread"

Great, great combo of leek & pumpkin, & it was much enjoyed by 4 of us here! I did use some homemade vegetable stock since my son & DIL are vegetarians! Next time I have company for dinner I plan to make this & serve smaller portions ~ Would make a very nice addition to the dinner menu! Thanks for sharing the recipe! [Made & reviewed for one of my adoptees in the current round of Pick A Chef]
Halve leeks lengthways and wash them under cold water to remove any dirt or sand. Thinly slice them. Will use the white and light green portion for addition to the soup. (use the leftover part , along with your vege peelings for the day and some fresh herbs to make your own vege stock for future use. Boil it up, strain it- there you have it!).
Peel and slice onions.
Using a large soup/ stock pot add the olive oil the leeks, onions and salt.Cook, stirring often, for 5 minutes. Add the minced garlic and cook another 1 minute.
Add all remaining ingredients (except the herbs for garnish) and boil for approx 25 minutes, or until the pumpkin is tender.
Use a stick blender or food processor to puree the soup.
Reheat. Optional to add some cooked beans eg cannellini beans, at this stage. Heat through before serving.
Serve sprinkled with some chopped fresh herbs and a crusty roll or toast.
Store any left-over soup in the fridge and reheat as required. This soup keeps and reheats well as it has no dairy added.
This soup can also be frozen and reheated as required.