Mandy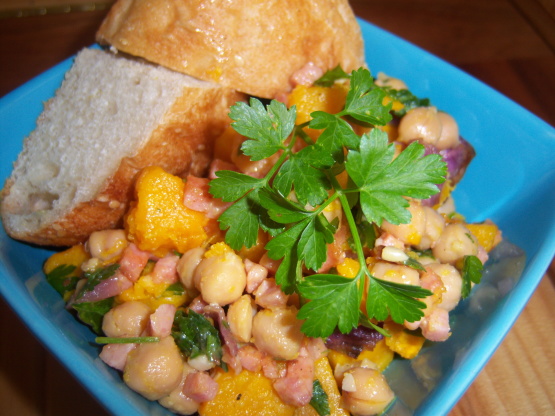 This recipe comes from Rachael Ward (wife of Aussie actor Bryan Browne) She uses butternut pumpkin (or maybe you call it a squash) I prefer to use Kent with its denser texture and more intense flavour. Save time and cook the pumpkin and bacon at the same time!

Absolutely delicious! Try substituting the bacon/pancetta with chorizo sausage which has been sliced and gently panfried, then added to the vegetables.
Preheat oven to moderate (180c).
Combine pumpkin, oil and garlic in a bowl; toss gently. Transfer to a shallow baking dish; roast uncovered for about 45 minutes or until tender. Allow to cool a bit.
Place the bacon on a tray in a single layer and cook for 20 minutes (in the oven), or until crispy.
Drain bacon, cool slightly then break into pieces.
Dressing:.
Combine the ingredients, whisk together well.
Combine all ingredients with the dressing, season to taste with salt and plenty of pepper and serve at once.