Pumpkin, Almond, Chocolate Granola Bars (Gluten Free)
Yankiwi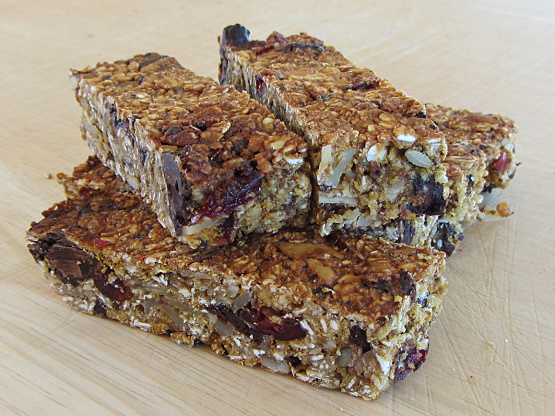 These perfectly moist and chewy granola bars make a wonderful road trip snack, or pack into a school lunch box for a delightful & healthy homemade treat. From Strands of My Life. Note: These bars are gluten-free, if you skip the optional wheat germ.

I was looking for ways to use my last pumpkin from last summer (I live in New Zealand) and these bars caught my eye. I had just two cups of oats in the house so food.com worked out 40% of the recipe for me. By making a small batch I was able to bake them in my bench top oven.<br/>I used more pumpkin and no applesauce, used oat bran instead of wheat germ, and the mix seemed a little dry so I beat up an egg and added that, kneading it all together with clean hands. I compressed it in the baking pan with the back of a wooden spoon. When done, I let it cool for a little while then put it in the fridge overnight. I've found it's easier to cut this sort of bar when completely cool. I use a very thin Japanese cleaver which makes a good job of cutting the bars. I cut them into 20 pieces, ate a few and put the rest in the freezer.<br/>These bars were very easy to make and substitutions could be made without affecting the outcome. I'll make them regularly, thanks for posting.
Preheat oven to 350°F/180°C Butter a 10" by 10" baking pan and line with baking paper.
In a large bowl, mix oats, spices, dried fruit, almonds, seeds, choc chips, wheatgerm, and salt together. Set aside.
In a medium bowl, whisk brown sugar, pumpkin, applesauce, honey, and vanilla extract until smooth. Pour over oats and stir well, until all of the oats are moist.
Evenly press oat mixture into prepared pan. Bake for 30-35 minutes or until golden brown. Cool for 15 minutes.
Remove from the pan by lifting the parchment paper.
Using a sharp knife, cut into bars.