Pumpernickel-Prune Bread (Abm)
sacousar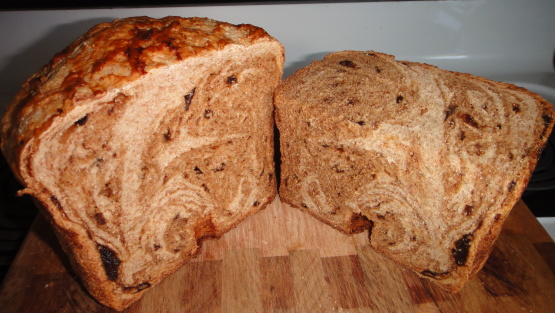 Based on a recipe from BH&G's cookbook, Bread Machine Bounty. The default measures are for the 1 pound loaf, and I've placed the 1 ½ pound measures in parentheses. My photo shows a 1 pound loaf. Cooktime reflects my Panasonic; your machine could make it in a lot less time! Tip: I always stir my flours before measuring; this seems to give me the most consistent results. I also check the dough during the kneading cycle to see if more liquid is necessary; for this bread, I added several tablespoons of extra water to get a nice elastic dough.

I have been using a bread machine (many different brands and models) to make all my bread for 19 years, so consider that I do have some experience. I made the 1 1/2 lb. loaf and confess I did not have any gluten, but otherwise followed the recipe. The results were a short, dense loaf - not unexpected, but I was disappointed that there was no taste of prunes in the bread. Using more chopped prunes could be an option that would also produce a more moist and therefore lighter loaf. It was worth trying again, since I like prunes.
Add ingredients to your bread machine in the order recommended by its manufacturer and use the basic bread cycle.
Tip: I add the pitted prunes at the beep or when the manufacturer suggests adding chopped nuts, chips, etc.