ImPat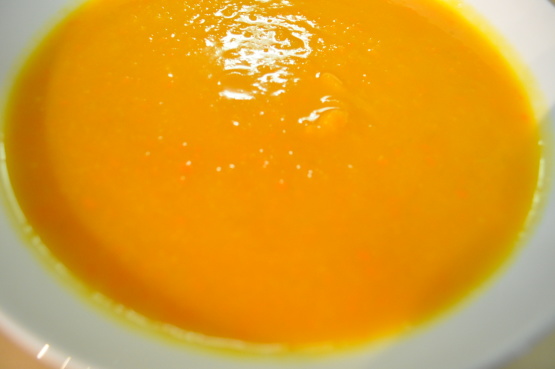 pumpkin/squash soup..but is a basic recipe for any kind of vegetable soup

Top Review by ImPat
The only thing I did differently was that I couldn't purchase a full butternut pumpkin but bought 2 halves which I roasted/baked in the oven and proceeded with the recipe using 2 sticks/ribs of celery but no flowers but in the end found the celery a little overpowering but maybe that is our celery (I have found that the flavour and strength of vegetables can range from region to region within my own country) or maybe using a stronger tasting pumpkin would have been better. I did scale it back to 4 servings and ended up with 2 cups left over after feeding 3 of us (with the DS having second helpings) and served with recipe #185498 (Brennan's Garlic Bread) and made for a light enjoyable meal. Thank you ann teapot, made for Bargain Basement Tag Game.
put some holes in your squash and put on a baking tray in the oven for about an hour.
Till you see the flesh soft inside.
Let it cool then scoop out all the flesh, leaving the skin and seeds.
make up however much stock you want, use a really good quality vegetable stock, we have one called Marigold here in England, not some really cheap stock cubes.
In a large saucepan sweat some small diced onions, grated carrot and some celery (the flowers are good) (this is called mirepoix or soffrito)and some garlic in a little vegetable oil until soft but slow so they are not coloured, add the stock and the squash and zap with a hand blender.
Check the seasonings, I like to add fresh blk pepper and a little fresh grated nutmeg.
Serve with crusty bread or whatever else you are having.