Pulled Pork With Cabbage and Onions (Crock Pot)
Bergy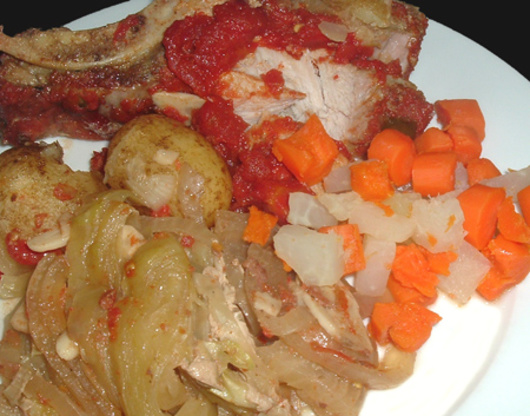 This is a good recipe to make when you don't have a lot of time to set up. Use your favourite bottled sauce or make your own, if you have a family favourite and the time. The variation in ingredient amounts depends on your own tastes and likes.

I just made this for my sons wedding. It was amazing! We had 50 people, and it really went over we'll.
Place onion and cabbage in bottom of crock pot, season with 1/2 teaspoon each of red pepper and garlic.
Put pork roast on top of vegetables and season with the rest of the spices.
Pour barbecue sauce over all.
Cook on low for 6-8 hours.
Take roast out of crock pot and shred with two forks.
If you want a thicker sauce, put the temperature on high then mix the water and cornstarch and put it in the crock pot while you are shredding the pork.
Eat on kaiser or Portuguese buns and enjoy!