Pulled Pork With a Coffee Rub -- Crockpot
PaulaG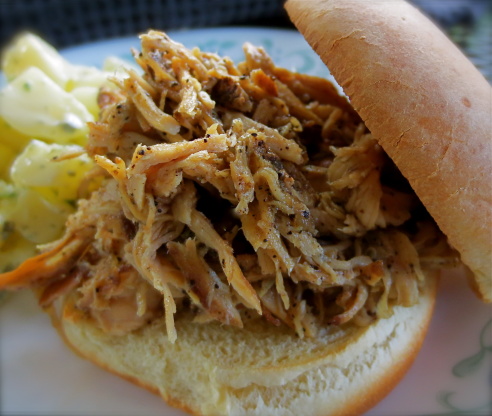 The crockpot makes easy work of pulled pork. This one features a coffee rub. Coffee, you say? The coffee adds a boost to the meaty flavor. After shredding the pork, it can be used in multiple ways. Serve in pork tacos, press a Cuban sandwich, add your favorite BBQ sauce, or even roll taquitoes. Note: Country pork ribs are thick meaty cuts with a bone, but are not spareribs. A pork butt would be a good substitute, but I find the country ribs make a smaller batch. ***I added no salt to the rub as the sauces contain enough for our family, but do add it if your family would miss it.

We really loved this meal. We served it along mashed potatoes and gravy and fresh green beans for a delicious meal. My husband needed to throw dinner in the crock pot before work because I was still in the hospital, so he threw this all together and put it on LOW heat for about 10 hours and we shred it up and fixed the side dishes and everything came together quickly. My husband said this would be great on a toasted roll with pepperjack cheese. This would be so simple to put in a lunch box for him, if we would have had leftovers. Made for Express Round 2 during ZWT9 for team Tasty Testers.
Make rub and apply liberally to both sides of the country ribs.
Place the onion slices in the bottom of the crockpot. Add the teaspoon of vinegar. Place seasoned country ribs on top. Add bay leaf.
Cover and cook on high 3 hours. Check for tenderness. Continue cooking if need.
Remove meat and onions. Shred the meat with two forks.
Serve on buns for sandwiches by stirring in your favorite BBQ sauce, or use as is to make a pressed Cuban sandwich. The meat is also good to roll for taquitoes or makes tacos.