Juenessa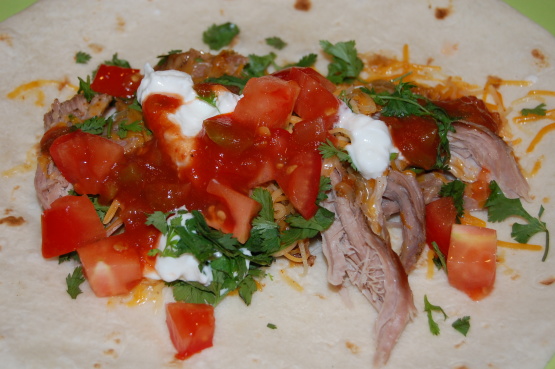 From Real Simple magazine. Easy and delicious. I use pork loin, which is a leaner cut of meat than originally called for (boneless pork shoulder), but stir all the juices back in and serve with sour cream, guacamole and/or salsa and no worries about it being too dry.

Heat oven to 300 degrees.
Tear off 2 large sheets of aluminum foil and layer one on top of the other. Place the pork roast in the center of the foil and season all sides with salt, pepper and cumin. Spoon jam over the pork, turning to coat.
Fold the double layer of foil around the pork, crimping the endes carefully to tightly seal. This is extremely important, for the juices must NOT leak out during cooking or you will have a dry roast.
Place the foil-wrapped roast in a baking dish and roast until fork tender. For me this is usually about 3 hours.
Remove from oven and allow to cool. Unwrap the pork and reserve the juices, onions and jalapenos. Discard the foil.
Use 2 forks to shred the roast. If it is well-cooked, it should practically fall apart.
Place pork in a serving bowl, pour reserved juices over meat. Add cooked onions and jalpeno rings, and toss.
Serve with tortillas, cilantro, guacamole, sour cream, salsa and lime wedges if desired. (I usually do not use salsa.).