VickiVSN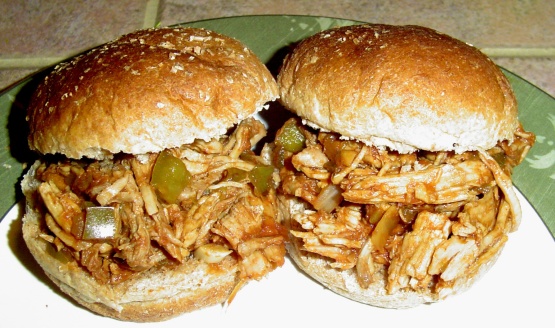 This tasty sandwich is both low in fat and low in sugary carbs, the perfect combination for anybody with diabetes and/or heart disease.

I tried this recipe last night since I had pork sirloin left over from New Year's. It was finger-licking good! I searched for a recipe that was not smothered in barbecue sauce. I had three alterations to the recipe. I used Splenda Brown Sugar, I omitted the jalapenos, and I used white vinegar (that's all I had on hand at the time). My husband and I really enjoyed it; and, the recipe will be transferred into my recipe file. Thanks for sharing!
Mix all except pork roast & rolls together.
Put all together in crock pot.
Slow cook until pork falling apart (four hours).
Pick pork apart with fork and mix with remaining juices.
Serve two ounces of meat with each dinner roll.