cbw8915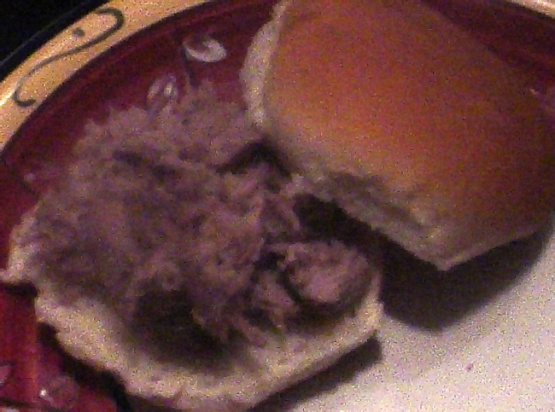 This is a combination of a few different recipes I have tried in the last few years. I prefer just cooking the roast and pouring the sauce on the buns, instead of mixing the sauce in with the meat. Play around with the rub if you like, and use either white or brown sugar, both work really well.
6 -8

lbs pork butt (bone removed)

For the Rub

1

cup sugar (brown or white)

1

tablespoon thyme

1

tablespoon garlic powder
salt and pepper
First, I highly recommend you request the butcher remove the bone from the roast, for your own convenience, and for making the rub more effective.
Mix all the Rub ingredients and mix together in a bowl.
Rub roast with Rub mixture.
Wrap in plastic wrap, and place in the refrigerator overnight.
The next day, let the roast come to room temperature.
Place roast in crock pot, and cook on low for 6 hours.
Remove roast from crock pot, and remove all visible fat from the roast.
Place roast back in crock pot, and using two forks"pull" the pork until it is shredded.
Keep roast on low, in crock pot until ready to serve.
Serve on cheap white buns with your favorite sauce, and sliced onion if desired.