Pulled Pork in BBQ Sauce Mini Sandwiches
Nimz1466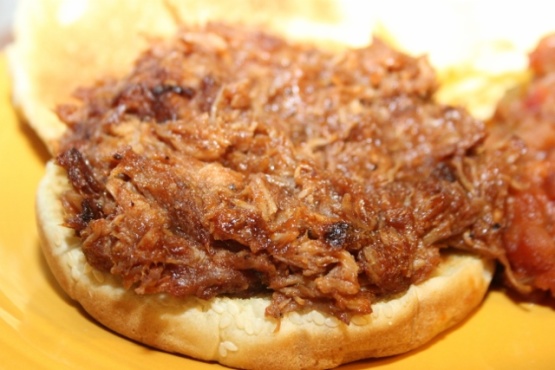 One delicious pulled pork sandwich that has the right flavors. Great snack or perfect for the super bowl party!

Boy did these hit the spot. The root beer added a very nice flavor. Made these as written. Also saved the leftover sauce, it was so good, I'm sure that I can put it to good use. I have some ground beef, and would like to try it on some grilled hamburgers, or on some chicken. It would worth trying. Very flavorful sandwiches, that we enjoyed with some seasoned fries, and corn on the cob.
Pour Rootbeer in the bottom of the crock pot.
Season pork roast with salt/pepper and mesquite seasoning.
Cook on high 4-6 hours.
Remove roast and sit 30 minutes. Empty the crock pot of the juices.
Peel by hand the pork roast, discarding the fat.
Add the pork to the crock pot and add the bbq sauce to the crock pot.
Cook on high for 30-60 minutes.
Serve on a roll. I prefer to use mini potato rolls from WalMart.