Pulled Pork and BBQ Sauce
Morrison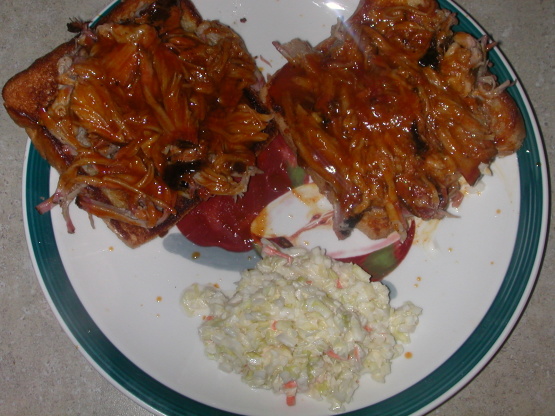 This is a thinner southeasten style pulled pork sauce that is designed to either be incorporated into pulled pork shreds, or as a drench on a pulled pork sandwich. It is very sweet and tangy. Be careful with the cloves, some are much stronger than others. Also, cayenne may be added for a little heat if desired.

to do this one better- put your pork shoulder in crock pot-add no liquid, it will make its own. slow cook on low for ten hours then meat is done. Drain and save liquid, and put in fridge or for faster, put it in the freezer. once fat is congealed, spoon it out in trash, then add pork liquid to the sauce while it simmers, then add back to meat in crock pot to serve from there- outstanding!
Combine all ingredients except butter and soy in saucepan.
Simmer 30 minutes stirring often.
Add butter and soy.
Stir until butter is incorporated.
May be tossed into freshly pulled pork, or used on pulled pork sandwiches.
To build the perfect pulled pork sandwich, put a slice of onion on a slice of white bread, add a layer of pulled pork, drench with sauce,repeat, cover with a slice of white bread, then pig out,mmmmessssy, but delish.