SharonChen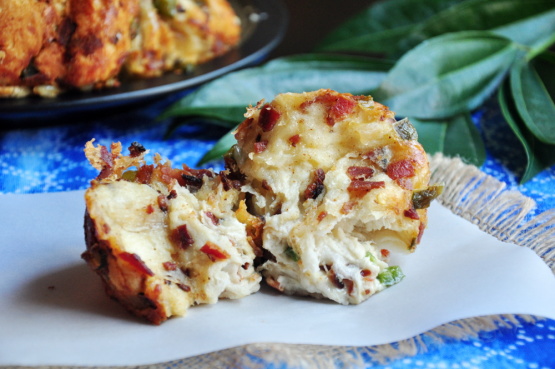 A great breakfast treat. Along the lines of monkey bread, but with bacon and cheese instead of cinnamon.
This recipe takes a bit of effort but WELL WORTH IT!!! You need to get your hands in there and squeeze the hell out of the biscuit dough in order to get bacon bits, green pepper, onion, and cheese all well blended in. But the results? OMG! It's to die for. I am totally going to make this again and again. Thank you so much for the recipe!
1

lb bacon
3⁄4 cup chopped onion

3

(16 1/3 ounce) canspillsbury buttermilk biscuits
1⁄2 cup shredded cheddar cheese

1

teaspoon vegetable oil
3⁄4 cup chopped green pepper
1⁄2 cup margarine
Cook bacon until crisp. Drain and crumble.
Place oil in skillet and sauté onions and peppers until tender.
Cut each biscuit into fourths and place in bowl. Mix in peppers, onions, bacon, cheese and margarine.
Put into 10 inch tube pan (sprayed).
Bake at 350°F for 30 minutes.
Remove from pan immediately.