Puffy Pancake With Nutty Banana Butterscotch
Ms B.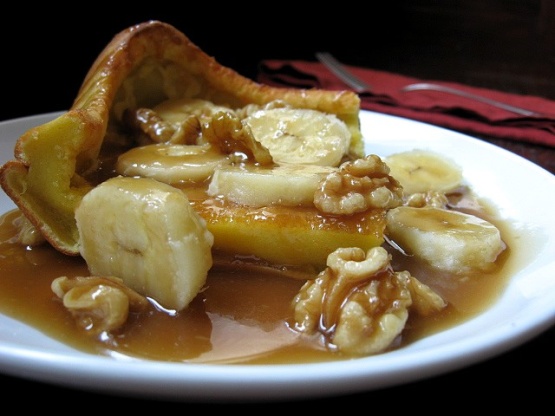 Mother's Day is almost here and that day usually starts with a special Breakfast. I would be very happy if this was on my breakfast tray. COOKS NOTE: I have substituted toasted pecans for the walnuts; equally delicious. Be sure your bananas are not green or under ripe as they can impart a tart flavor in your sauce. Bananas with brown flecks just starting to appear( but still a little firm) will not leave this taste. From "Everyday with Rachael Ray" By Melissa Clark
Preheat oven to 425°F
Place 1/2 stick of butter into a 9-inch square baking dish and put it into the oven to melt, about 5 minutes. You could toast the chopped walnuts in a separate pan, in the oven at the same time or toast them in a pan on the stove top. Keep an eye on them so they do not burn and toast until fragrant.
In a large bowl; whisk the milk and eggs together. In another bowl, whisk the flour and granulated sugar together until blended, then whisk in the egg-milk mixture.
Pour the batter into the prepared baking dish, bake until the pancake starts to rise and becomes puffy, about 15 - 20 minutes.
Meanwhile, in a medium sized saucepan; cook the brown sugar, salt, and 2 tablespoons of water over medium heat, stirring until bubbling, about 5 minutes.
Stir in the other 1/2 stick of butter, the sour cream, and the sliced bananas; heat through.
Drizzle the pancake with half of the butterscotch-banana sauce and sprinkle with the toasted walnuts.
Slice and serve with the rest of the sauce on the side.