KK7707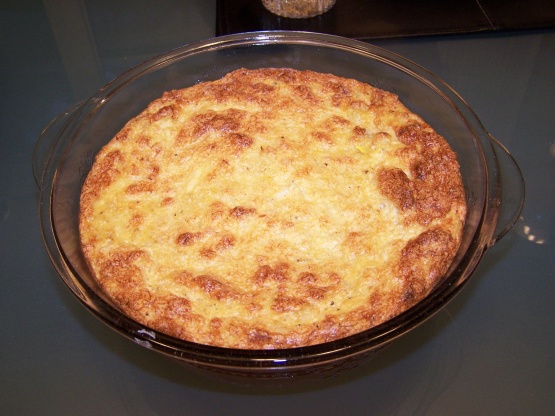 Here in southern Maryland we eat a lot of crabs. This is an interesting way to use your leftover crab meat (we pick our own crab meat). I don't remember where I found it. You can also use canned pasteurized crab meat.

Top Review by KK7707
First Review 8/07: This recipe is very good, and would be a fantastic meal to serve to guests - you'll wow them with elegance. The only reason I gave it 4 stars instead of 5 is my personal preference for creamy dishes as opposed to light, fluffy ones. I'll try this recipe again using whole eggs (not beating the whites) as all the elements are here that are perfect with crab! If you like dishes with this texture, you will adore this recipe. I always advocate using the best crab you can find when preparing any crab dish. Second Review 3/08: I made this dish again for a big party, placing it on a table with many other dishes, and it was a huge hit. I'm revising my review to 5 stars, although I still expect to try this dish 'creamy' style. The seasoning is perfect - thanks again, Sandy.
453.59

g crabmeat

29.58

ml butter

29.58

ml flour

236.59

ml hot milk

3

egg yolks, beaten

3

egg whites, beat till stiff peaks

118.29

ml mayonnaise (I use Hellmans)
salt and pepper

0.25

ml cayenne pepper

4.92

ml paprika

1.23

ml old Old Bay Seasoning (optional)
Melt butter in sauce pan.
Cook 5 minutes.
Gradually sir in milk and bring to the boil.
Cool mixture 5 minute.
Fold in beaten yolks.
Fold in mayonnaise.
Add crab meat.
Season to taste.
Add cayenne.
Fold in stiff beaten egg whites to crab mixture.
Put into buttered casserole.
Dust with paprika.
Bake in 400°F oven until browned and puffed, approximately 20 minutes.