Bonnie G 2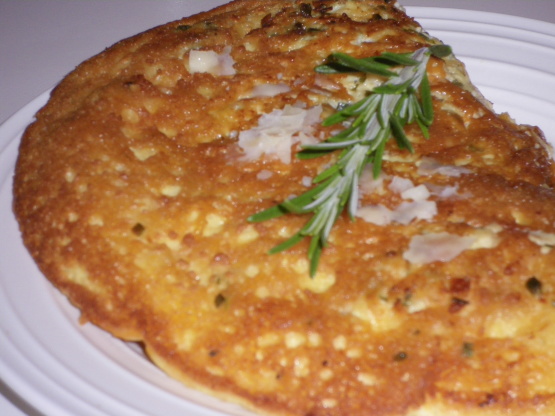 Adapted from a recipe I found in this morning's Herald Sun's Sunday magazine, too late for today's breakfast but I plan to try it soon. It is from Donna Hay's 'Tastes of Autumn' magazine but to me this sounds like an anytime of year breakfast idea! My only additions were garlic, rosemary and sage, simply because I enjoy all of these in many savoury dishes, but I've listed them as optional. Feel free to add your favourite herbs. So that the omelet retains its lightness, I'd be disinclined to add anything else to it, but I'll certainly be making this with some mushrooms. YUM! OOPS! Chocolatl observed - quite rightly - that I'd omitted the butter from the Ingredients list. Add 1 tablespoon butter, preferably unsalted to the pan in step four.

Great Omelet, made this as a special breakfast for DH after he returned from a long trip and he loved it. I followed your advice and didn't add anything additional to it. When making it I always have a hard time turnng the omelette so I started it in a pan with metal handles till the bottom was firm and then placed in a 350 pre-heated oven for the top to become firm. Then when I removed it - was a snap to fold in half. Loved how fluffy and light it was with whisking the whites of the eggs. This was a great tasting, elegant looking and simple to prepare breakfast.
1⁄4 cup mascarpone

1

tablespoon chives, chopped

1 -2

garlic clove, minced (optional)

1

pinch rosemary, to taste (optional)

1

pinch sage, to taste (optional)

2

free-range eggs, separated

2

tablespoons cream
sea salt, to taste
fresh ground black pepper, to taste

1

tablespoon butter, preferably unsalted

1

tablespoon parmesan cheese, finely grated

1

tablespoon cheddar cheese, grated
extra parmesan cheese, finely grated, to serve
Combine the mascarpone, chives and garlic, rosemary and sage (if including) and set aside.
Place the egg yolks, cream, salt and pepper in a bowl and whisk until they are combined.
In a separate bowl, whisk the egg whites until they form stiff peaks then gently fold through the egg yolk mixture.
Heat the butter in a 20cm/8 inch non-stick pan over a medium heat; pour the egg mixture into the pan and cook for 5 minutes; sprinkle with the parmesan and cheddar; spread the mascarpone mixture onto one side of the omelet and carefully fold over to enclose the filling; cook for a further 1-2 minutes; sprinkle with parmesan and serve.