Puerto Rican Style Pernil (Roast Pork)
shaddiff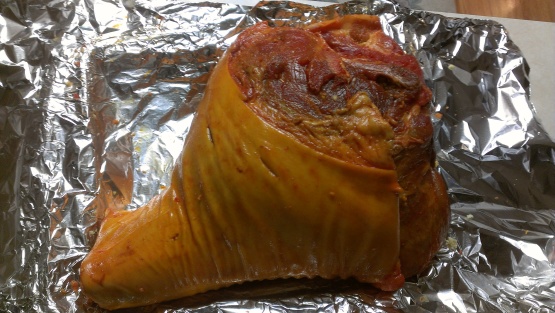 Pernil is roasted pork shoulder, seasoned to the max. It is served with rice and beans or sweet plantains. Cold Pernil is sliced thin paired with Swiss cheese, pickles and ham to make the famous Cuban sandwich. I found this recipe online and have made it twice now. I love it and so does my family.

this is a great recipe, the trick I use for crispy skin (chicharron) IS dont turn it, LEAVE IT ALONE). i DONT USE SAZON, I MAKE A PASTE OF THE SEASONING WITH 3 TBPS OF OIL. IS SOOO GOOD.
5 -8

lbs pork shoulder

6 -8

cloves minced garlic

1

teaspoon salt
1⁄2 teaspoon dried oregano

1

packet sazon goya (found in most supermarkets in the ethnic aisle)
1⁄2 teaspoon adobo seasoning (found in most supermarkets in the ethnic aisle)
In a bowl mix garlic, salt and oregano.
With a sharp knife make deep cuts in to the pork only on meat side,and stuff the garlic mixture into the slits.
The more cuts the better the flavor.
Sprinkle the other seasoning the Adobo and the Sazon all over the outside.
Then rub the seasonings in making sure the entire surface is covered.
Roast the Pork in a pre-heated 350 degree oven for 4-6 hours uncovered in a pan with a rack.
Roast the pork skin side down for the first 2 hours and then turn skin side up for the remaining time.
Pork should be well done and tender.
Make sure all juices run clear before removing from oven.