Puerto Rican Rice and Beans (Pink Beans)
Ang11002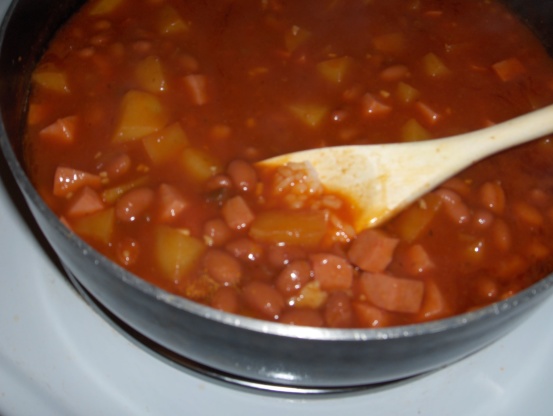 Again, another recipe from my boyfriend. The Goya brand products in this recipe can usually be found in the international section or Mexican section of your grocery store. Although I use Pink Beans for this recipe, please feel free to substitute Goya Kidney Beans or Pinto Beans.

My fiance is Puerto Rican, and so our daughter is obviously half Puerto Rican. I find myself striving to make Puerto Rican dishes to perfection, I even made Coquito last Christmas and I will be making it again this year! (My fiance isn't even home to try all this stuff that I'm making for him!) But, I'd rather practice while he's locked up so that when he comes home he'll be surprised. Anyway... this recipe was BY FAR the best recipe I've tried yet! The inlaws never gave me recipes because they all have it in their memories! So, this recipe will be used in our house over and over now because it's amazing! I changed a little though, like 2 potatoes, I didn't have Sofrito but I had Recaito and I added an onion. It was delicious!!! Thank you!!
2

tablespoons olive oil
1⁄2 cup ham, chopped into small cubes

2

tablespoons goya sofrito sauce

2

tablespoons goya recaito

1

teaspoon minced garlic or 2 garlic cloves, minced

1

(15 1/2 ounce) cangoya pink beans, undrained

1

cup water
1⁄4 cup tomato sauce (plain)

1

(2 g) envelopegoya sazon goya, con culantro y achiote
1⁄4 teaspoon oregano

1

pinch salt

1

small potato, peeled and cut into chunks

2

tablespoons manzanilla olives, sliced (or 6 to 10 whole manzanilla olives)

2

cups cooked white rice, medium grain (Cook according to packaged directions)
Heat oil in saucepan on medium. Add ham and sauté for about 5 minutes.
Add Sofrito, Recaito and garlic and sauté another 5 minutes.
Stir in remaining ingredients. Bring to a boil. Reduce heat, cover and simmer until potatoes are tender and beans are desired thickness.
Serve over hot rice.
Tip: We eat this with a slice or two of avocado, which is traditionally how rice and beans are served in Puerto Rico.