Pudla - Besan Chickpea Pancake
awalde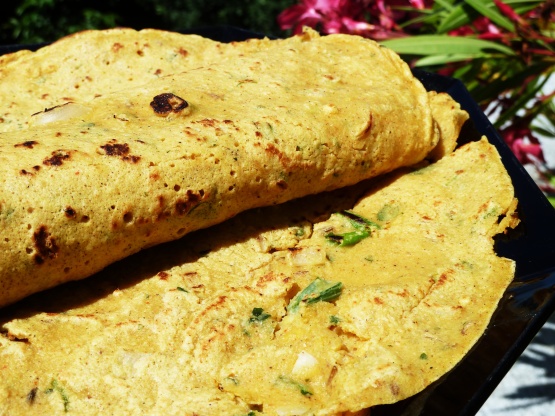 Delicious chickpea, no eggs pancakes. The original recipe is from Yasmin Alibhai-Brown an Ugandan-born British journalist and author of Pakistani descendents. Recipes are described in her fantastic book, "The Settelers Cookbook", a Memoir of Love, Migration and Food. See also. http://www.alibhai-brown.com/archive/article.php?id=181 and http://www.guardian.co.uk/books/2009/feb/28/yasmin-alibhai-brown-cookbook.

WOW, This is a very tasty gluten free wrap! DD1 (4 years old) and I enjoyed these with Balkan yogurt. I made my own gram flour (chickpea flour) from whole dried chickpeas which I ground in a coffee grinder/spice mill. I used less fresh cilantro as I didn't realise some had gone bad, for the chili powder I added a few pinches of cayenne pepper powder because that is what I had on hand, I added sea salt to taste and freshly ground black pepper to taste, a bit of fennel seed ground with the chickpeas to replace the asafetida powder, plus the rest of the ingredients. The mixture thickens to a spreadable consistency which I cooked thinly in my cast iron frying pan with some canola oil. I tried one with some home made garam masala sprinkled over top while cooking but preferred it without. I would make these again!!! Made for Please Review My Recipe ~ ~ ~ from March 10th ~
Mix ingredients, then add water to make a batter.
Leave to rest for an hour.
Heat flat griddle or frying pan; spread a little oil on it.
Pour in a little of the mix and spread it out with a wooden spatula so it thinly covers the pan.
Cook for about a minute, then turn over.
Serve with yogurt, pickles or chutneys.
Note: to the mixture you can add grated carrots, garam masala other other spieces.