ImPat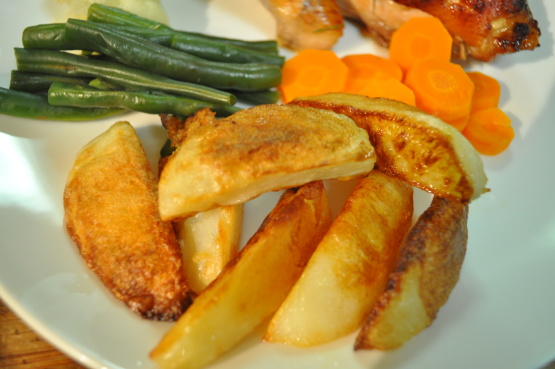 The easiest (and healthiest) recipe for home fries I've ever come across. This is an essential side dish for grilled meat at our house! Everybody loves them and I hope you do too.

Top Review by MelB2
I've been doing "wedge" potatoes like this for a few years now and they are so delicious. Another great seasoning to add to them is cajun spice mix - add it in with the salt and pepper and I promise you will love the flavour!
Slice washed, unpeeled potatoes into wedges, about a quarter of an inch thick.
Toss potato wedges with olive oil and place in baking pan (it's a good idea to coat the pan with cooking spray to prevent sticking).
Sprinkle liberally with garlic salt and black pepper.
Bake 30 min at 400 degrees; broil for 1-2 minutes to make fries crispy, and serve hot.