JustJanS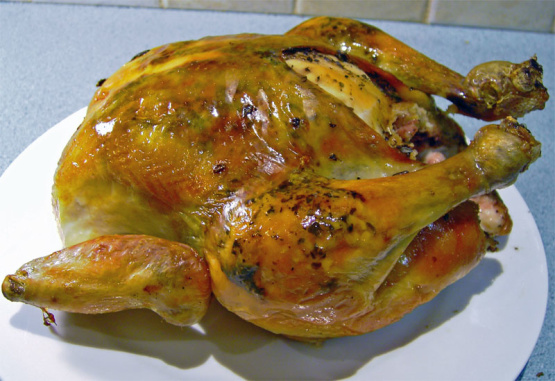 No more boring roast chicken...this is super simple and super delicious. We always double the recipe for our family of ten, then have leftovers for another day :)

I added rosemary to this, because I like it. DH liked the chicken except for the "long pieces". Lol. I would say that I prefer rotisserie chicken, so next time I'll use the spices and use the rotisserie.
Rinse chicken, removed giblets and neck, and trim excess fat; loosen skin from breast and drumsticks by inserting fingers, gently pushing between skin and meat.
Combine next six ingredients (vinegar through garlic) and rub under loosened skin over meat.
Pour wine over chicken.
Roast at 400 degrees for approximately 90 minutes, or until desired degree of doneness; you may want to cover the chicken with foil for the last half hour (make sure you don't overcook it, or the meat will be dry).