Pryj's Sweet & Savory Peach Salsa
Pryjmaty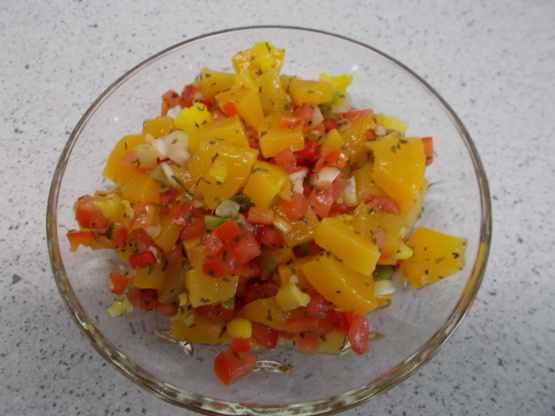 I came up with this recipe to go with Jamaican jerk grilled swordfish. I was too lazy to go to the store so I put this together with what I had on hand in the kitchen.
1⁄2 sweet red pepper, seeded and chopped fine

2

green onions, chopped fine
1⁄2 roma tomato, diced fine

1

(15 ounce) cansliced peaches, drained and diced

1 -2

tablespoon chopped hot pickled cauliflower

1

teaspoon dried cilantro

1

tablespoon lime juice

1

tablespoon pickling liquid, from cauliflower

1

teaspoon minced garlic

1

teaspoon salt

1

tablespoon peach syrup

1

finely chopped jalapeno (optional)
Combine all ingredients.
Refrigerate for 2 hours.
Serve over your favorite fish, chicken or pork.