chia2160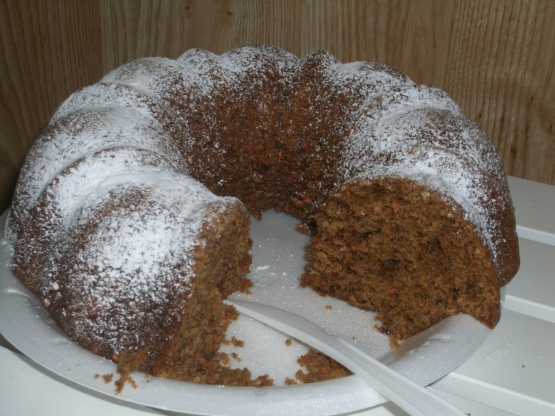 Spicey, fruity, moist cake that starts with a cake mix. Easy to make. I usually dust it with confectioners sugar but it is equally delicious with a caramel frosting.

Easy, moist, and very delicious cake! It was a hit at work and I'll be sharing the recipe. I read another recipe for prune something that said to cook the prunes in tea, so I used Constant Comment and thought that would be a good flavor addition. It was too subtle to tell, but I will try it again with stronger tea. I just got a shipment of things from Penzey's Spices and wanted to try the Cake Spice. I added 2 teaspoons to the cake batter. It made the cake even more tasty than it already was. One thought it was kind of like gingerbread. Thanks for a great recipe I'll be making again!
12

ounces dried prunes
1 1⁄2 cups water
18 1⁄2 ounces duncan hines spice cake mix

3

large eggs
1⁄3 cup vegetable oil
Combine prunes and water in a microwave safe bowl.
Microwave on high for 2 minutes.
Drain reserving liquid.
Puree prunes in a food processor or blender.
Preheat oven to 350 degrees.
Grease and flour a large bundt pan.
In a large bowl blend cake mix, eggs and prune liquid and oil.
Beat on medium speed for 3 minutes.
Stir in prune puree and beat for 1 more minute.
Bake at 350 degrees for 40-45 minutes.
Cake is done when toothpick inserted in center of cake comes out clean.