Prune and Proscuitto Rolls
teresas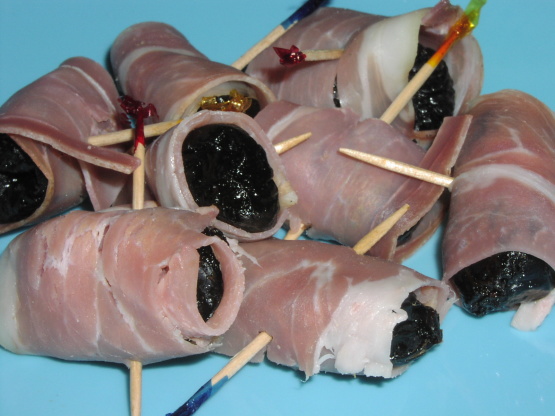 This is out of my cookbook called "Everyday Cooking".

These were a tasty little morsel - intended for this evening, but I had to sample. I did have a technical problem - my prosciutto was on the dry side and perhaps sliced a shade thick - it really did not want to wrap around. I buy prosciutto at several different markets, and next time will look for a somewhat moister ham sliced more thinly. I would like to experiment with soaking the prunes in port - I think that would add a nice layer of flavor to these.
Cut each proscuitto slice in half across the width and then in half again down its length.
Wrap a strip of prosuitto around each prune.
Secure with a toothpick.
Serve as an hors d'oeuvre.