This is from a little cookbooklet from Sargento Cheeses. This is a very tasty Garlic Bread. And Super easy.
Directions
Cut bread lengthwise in half; place cut side up on baking sheet.
Combine oil, garlic, oregano and, if desired, pepper flakes in small bowl; mix well. Brush on cut sides of bread. Place under preheated broiler 5 inches from heat; broil 2 minutes or until bread is lightly toasted. Arrange cheese slices over bread, cutting to fit if neccessary.
Return to broiler; broil 1 minute or just until cheese is melted. Cut bread crosswise into 8 pieces.
Most Helpful
We had this tonight with steak and bowtie pasta salad. It was a big hit. The garlic and spices were a perfect compliment to the provolone cheese.

Nice treat! I had never thought of using olive oil instead of butter! I used sweet french bread as I could not find the Italian, which I would have preferred, and mozzarella.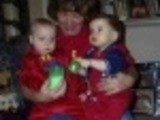 MMMM Just what I was looking for. I liked the olive oil. I used a shredded italian cheese blend, next time I will try it with the sliced provolone. Thanks for posting..