Provencial Style Potatoes and Green Beans
sbhende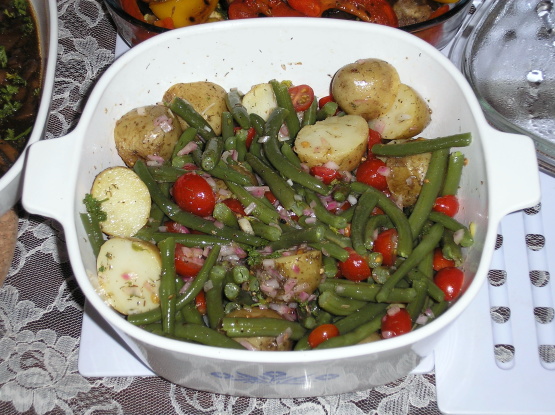 Nice vegetable side dish which I pair with Salmon Wellinton. Source: Better Homes and Gardens Appetizer Issue

Wonderful and I DID serve these with your Salmon Wellington! I make this dish regularly in France and it is a classic! There was just a WEE bit too much oil in the dressing for us, but that not detract from the great taste and textures of this dish! Merci encore! Made for PAC Spring 2009.
In a medium saucepan, place potatoes with water to cover and 1/4 tsp of salt. Bring to a boil, reduce heat and simmer covered for 15 to 20 minutes. Drain well and let cool.
In a saucepan, cook green beans in 2 inches of boiling water for about 5 minutes or until barely tender. Immediately place in large bowl of ice water.
Cut potatoes in halves and place in a large bowl. In a screw top container combine olive oil, vinegar, red onion, dill, parsley, basil, Dijon mustard, salt and pepper. Cover and shake well. Pour dressing over potatoes and let stand for 15 minutes.
Just before serving add green beans and tomatoes. Toss gently to mix.