Provence Lavender Cordial-Syrup
BecR2400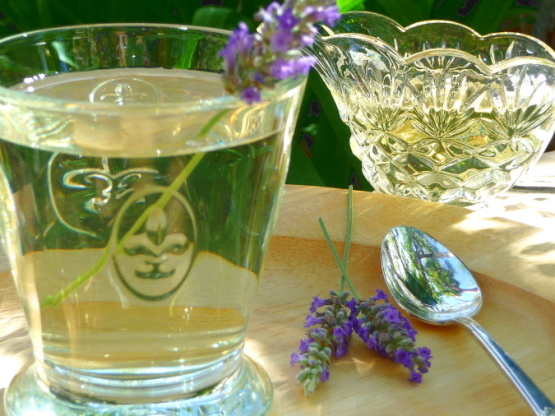 An exquisite blend of lavender flowers and herbes de Provence makes for a pleasant, refreshing cordial--perfect for a summer's day! Stir into lemonade, teas, ice-water, champagne or cocktails, -or- drizzle on pound cake, waffles, pastries, puddings or fruit. Lovely! I like to make this in the early summertime, when the lavender flowers are still fresh! Try it in my Provence Lavender Cocktail, or whisk a few spoonfuls into whipped cream, or thicken with powdered sugar for a glaze. Makes a beautiful hostess or Christmas gift, tied with a pretty lavender ribbon!
1⁄2 cup granulated sugar
1 1⁄2 cups water
1⁄2 cup fresh organic edible lavender flowers (or 2 tablespoons dried lavender flowers)

1

tablespoon herbes de provence (optional)

1

small fresh lemon, juice of
Heat sugar and water in a saucepan over medium heat, stirring to dissolve the sugar completely.
Bring to a boil, then remove from the heat.
Add the lavender flowers (and the herbes de Provence, if using).
Cover, and let flowers steep for 30-45 minutes.
Strain through a fine mesh sieve or paper coffee filter into a measuring glass (with a lip for easy pouring).
Add lemon juice.
Pour into a clean container (preferably sterilized), cap, and refrigerate for up to 2 weeks, or freeze.
Note: the syrup will not freeze solid-- you will be able to scoop out a spoonful easily!
Stir a spoonful of Lavender Syrup into your favorite beverage! It's delicious in lemonade, tea or ice-water. Try it in my Provence Cocktail, recipe # 250030. OR, drizzle over pancakes, waffles, French toast, scones, fruit, puddings, cakes or ice cream. Thicken with confectioner's sugar to make an exquisite glaze for cookies or cakes.
Makes a beautiful hostess gift tied with a pretty ribbon!