StevenHB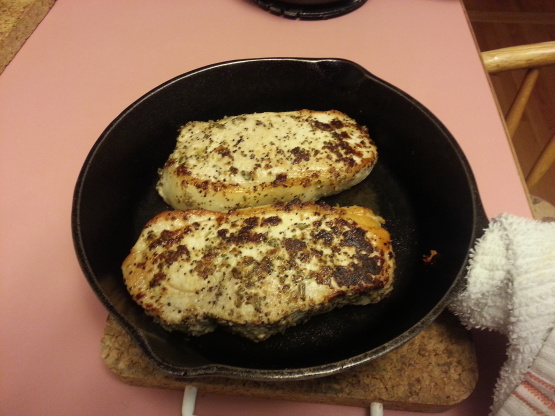 Great on extra-thick pork chops, but put it on any chop or steak bound for frying pan or grill. Adapted from Fine Cooking #5 (October/November 1994). The spice rub freezes well - we almost always have some in a ziplock bag in the freezer.
I usually use a bit less salt. 1/3 cup of garlic is about one average head.
In a food processor, put in the lemon zest with the motor going and then add the rest of the ingredients. Process briefly until the mixture is the consistency of wet sand.
Use of rub on pork chops: Put 1/2 to 1 teaspoon (or more) of rub on center-cut pork chops on the bone (preferably 1 to 1 1/2 inches thick). Sear chops in a HOT cast-iron skillet with a teaspoon or so of oil, 1-2 minutes/side. Then place in a pre-heated 400°F oven for: 6-8 minutes (1/2" chops) 10-12 minutes (1-1 1/2" chops). Per leecooks1, take them out when an instant-read thermometer should read 140F for chops that are still a bit pink.
Let rest ~5 minutes before serving.