loof751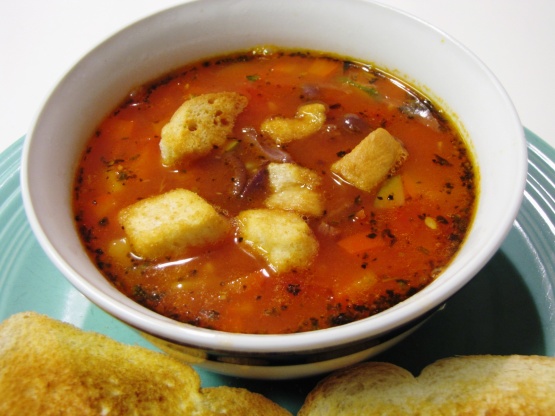 A recipe from Tout Simplement Clodine.

Wonderful soup, rich and full flavored! I don't care for onions so left them out, and my zucchini was more on the large side than medium, otherwise made as directed. Loved the garlic crouton garnish and all that garlic in the soup. Thanks for sharing this recipe!
In a saucepan, heat oil and melt butter. Brown garlic and onion 4 minutes. Add salt and pepper. Add red bell pepper and zucchini, and let cook 4 minutes. Deglaze with the white wine.
Add tomatoes and vegetable stock. Heat and let reduce, uncovered, 5 to 7 minutes. Add olives and basil. Stir delicately and heat a little bit more.
Serve with garlic croutons.