Prosciutto-Wrapped Stuffed Chicken With Herbed Ricotta
lazyme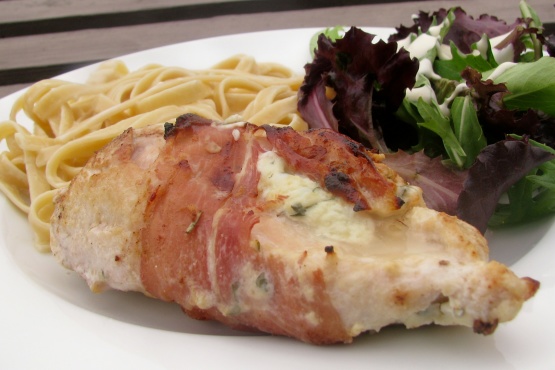 This recipe is from Rachel Ray. Her recipe uses fresh parsley, basil and thyme. She also uses wine to deglaze the pan. I have made adjustments to the recipe based on what I used. Feel free to adjust herbs to your liking and if you cook with wine, it can be used in place of the chicken stock. Be creative.
1⁄2 cup ricotta cheese
salt, to taste
pepper, to taste

3

tablespoons parmigiano-reggiano cheese, grated

1

garlic clove, finely chopped

1

tablespoon flat leaf parsley, chopped

2 -3

small sage leaves, chopped

1

small sprigs rosemary, chopped

4

small chicken breasts, skinless, boneless

1 -2

teaspoon olive oil

4

slices prosciutto, di parma (thin sliced)
chicken stock
1⁄2 lemon, juice of

1

tablespoon butter
Preheat oven to 400 degrees F. Measure the ricotta cheese into a small bowl. Add in parsley, sage, rosemary and garlic. Add in the grated Parmigiano-Reggiano and stir well to blend.
Butterfly each chicken breast and fill each with a fourth of the ricotta cheese mixture. Wrap each chicken breast in a slice of the proscuitto di Parma.
Add 1 to 2 teaspoons olive oil to an ovenproof skillet. Warm over medium high heat. Add in prepared chicken breasts and brown, turning once for 4 to 6 minutes. Place the pan with the chicken in the oven and bake for 12 to 15 minutes.
Remove chicken from pan, deglaze the pan with chicken stock, add in lemon juice, butter and additional stock as needed to make a sauce. Spoon over chicken.
This is delicious served with oven roasted asparagus and makes and elegant but simple meal.