Prosciutto-Wrapped Mozzarella Skewers
ChefDLH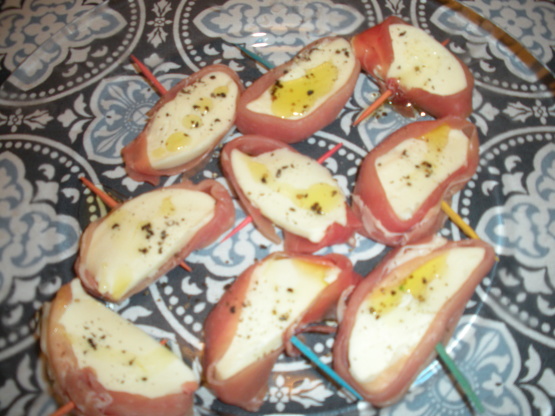 "Proscuitto-wrapped mozzarella skewers are a fuss free, no-cook hors d'oeuvre perfect for a last-minute holiday party" or gathering. These lend instant sophistication to an appetizer setting, cocktail party or event. These are easy to make and so yummy to eat. Use the best quality soft mozzerella and the best quality proscuitto in addition to a high quality olive oil and fresh ground pepper. Don't skimp and these will be great. Recipe was developed originally by Doug Biederbeck, the owner of San Francisco's popular restaurant Bix. Enjoy ChefDLH.
1. Look for a high-quality fresh mozzarella. Slice into 1/2-inch thick rounds not balls.
2. Wrap the outside edge with a piece of proscuitto.
3. Secure in place with a decorative toothpick.
4. Drizzle with olive oil
5. Sprinkle with freshly ground pepper.