Prosciutto-Wrapped Mozzarella & Basil
jrusk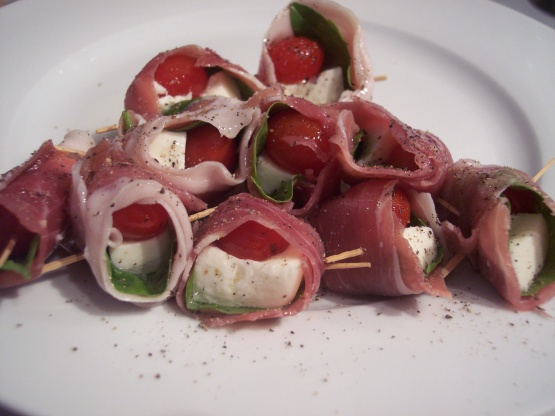 I love Prosciutto and will even eat it plain but this combo takes mozzarella caprese to another level. It makes a fabulous appetizer and looks great too. This is from a Fine Cooking pullout...recipe by Tony Rosenfeld.
Arrange 8 slices of prosciutto flat on a cutting board and put a piece of basil on one end of each slice. Top each piece of basil with a piece of mozzarella and a tomato half, matching the cut sides to make a ball.
Season very lightly with salt and generously with pepper and then roll up the balls in the prosciutto. Secure each with a toothpick and set on a platter.
Repeat with the remaining ingredients. Drizzle with the olive oil and serve. These keep at room temperature for up to 1 hour before serving.