Prosciutto Wrapped Endive W/ Balsamic Fig Reduction - Rachael Ra
Julesong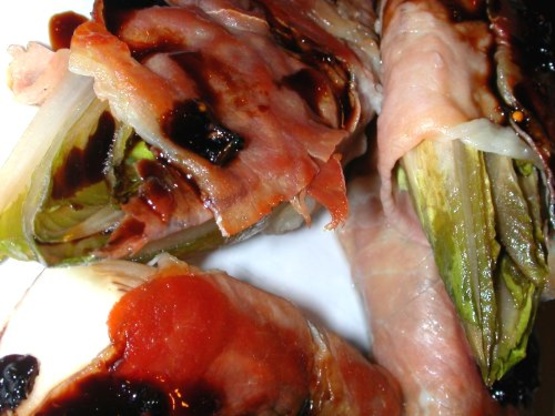 I saw Rachael Ray preparing these on "30 Minute Meals" recently, then found endive on sale at Trader Joe's… I have the rest of the ingredients at home, so I couldn't resist! :)

Julesong!! This dish is DELICIOUS!! the balsamic/fig reduction is excellent. For a slight variation - I added a small piece of blue cheese under the prosciutto and wrapped tightly. Heavenly!!!
Trim the heads of endive, and quarter them lengthwise.
Cut the sliced prosciutto in half on an angle across the center.
Over medium-high temperature, heat a grill pan or large skillet.
Season the prepared endive with salt and freshly ground pepper (I like tricolor peppercorns).
Wrap each endive with a piece of sliced prosciutto, then brush each with the extra-virgin olive oil.
Saute each on the grill pan or large skillet for 7 to 8 minutes, turning every couple of minutes, until the prosciutto is nicely crispy and the endive pieces are tender.
While the vegetables and ham are cooking, begin the reduction sauce: place the chopped figs and vinegar into a saucepan and bring to a boil.
Reduce heat to medium and simmer sauce for 5 to 7 minutes, or until the figs are soft and the vinegar is nicely thick and syrupy.
When endives are done, place attractively on a serving dish and drizzle the fig and balsamic reduction over them.
Serve and enjoy!