L-Burden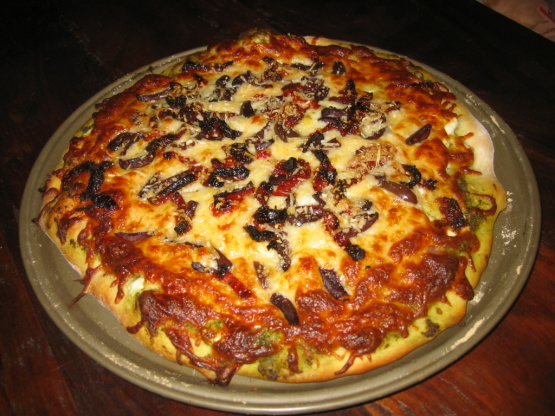 This is an original recipe that combines many of my favorite flavors. The saltiness from the proscuitto and pesto combined with the sweet sundried tomatoes is a little party in your mouth with each bite. Hubby asks for this once a week...and it never gets old. Leftovers are great too...if you have any!
Preheat oven to 450 degrees.
Flour pizza dough and roll out to 12 inches in diameter.
Spread pesto on dough with the back of a spoon.
Spread ricotta on top of pesto.
Lay strips of proscuitto on top of ricotta.
Cover the proscuitto with mozarella.
Add olives and tomatoes in an even layer on pizza.
Sprinkle parmesan on top.
Bake at 450 for 10-15 minutes or until very golden. (We like ours cheese pretty brown).
Let cool 3-5 minutes before slicing.