Feej3940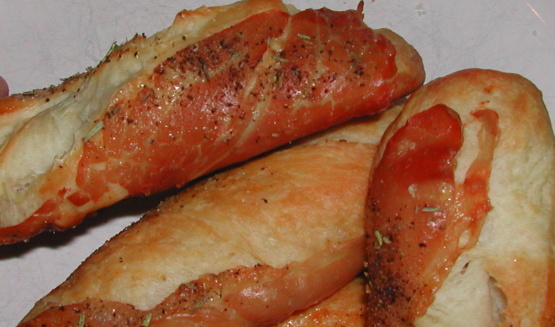 Turn these breadsticks into appetizers! Cut the layered dough in half crosswise, bake and you'll have delicious two-bite treats! From Woman's World, April 10 2007.

We liked this very, very much! I thought I had breadstick dough, but it turned out to be biscuits. That's OK, I just rolled them out and went from there. We will be making this again. Thank you very much for sharing this recipe. (By the way, I was pleasantly suprised when I saw it was your recipe - since you were the first to try any of mine) :)
Preheat oven to 350*F. Coat baking sheet with cooking spray.
On same baking sheet, unroll dough into 8 strips. Cut each slice of proscuitto lengthwise into 4 strips. Place 2 strips prosciutto on top of each breadstick to cover; gently press to adhere. Twist each breadstick.
Combine rosemary, pepper and salt. Brush breadsticks with egg. Sprinkle with rosemary mixture. Bake 9-11 minutes or until golden.
For extra flavor, sprinkle breadsticks with a little grated Parmesan cheese before baking.